Chiang Mai Thailand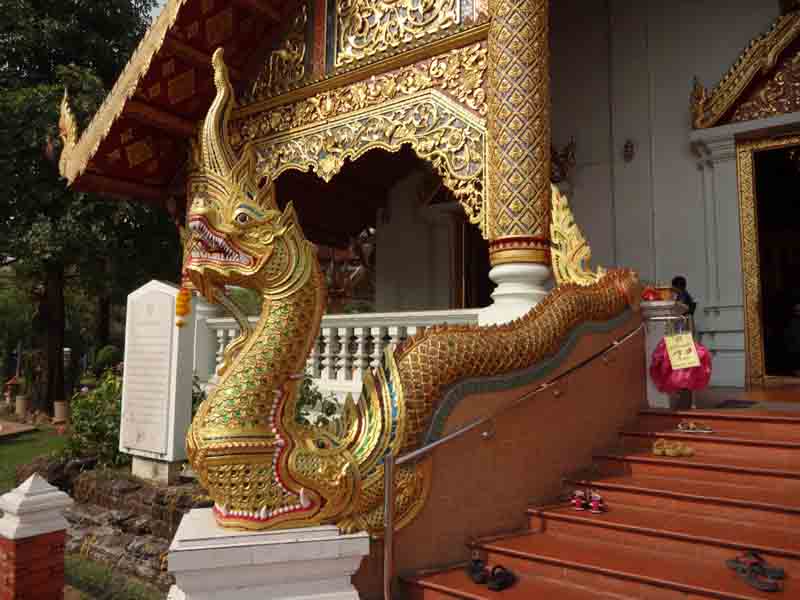 Chiang Mai:  More than Just Handicrafts
Chiang Mai is very well known as Thailand's center for all types of handicrafts.  Whether you are looking for paper umbrellas, giant fans, carved teak souvenirs and furniture, or fine silver work, it can all be found herein Chiang Mai.  You can venture to most of these craft factories on your own or catch one of the many craft tours offered at most hotels.
Probably the second thing that Chiang Mai has become famous for is it's Night Bazaar.  Every night, starting just before dusk, these street vendors come out to set up their stalls along Chang Klan Road in the main tourist district of Chiang Mai.  Recently, they have introduced two other night markets for the tourists and locals alike.  These have been given the nick-name of "Walking Street" markets, since that is what they are.  Every Saturday night, Wualai Street (the traditional Silversmith area) is closed off and the vendors take over the road selling their items.  Sunday night Ratchadamonoen Road (old town) is closed off for a similar night market.  If you visit both the Saturday and Sunday Walking Street Markets, you'll probably recognize many of the same vendors!
As we said, Chiang Mai is famous for it's handicrafts, but that's not all the area has to offer.  For pilgrims to Buddha, it is worthwhile visiting Wat Prathat Doi Suthep.  This temple is one of the most important and most revered temples in Chiang Mai.  This temple is a favorite destination for Buddhist holidays like Makha Buja and Visak.  According to legend, a Buddha relic that glowed magically replicated when it was nearly enshrined in the temple.  You must dress appropriately if you plan on visiting this temple.  It takes about 309 steps to reach this temple though.  Another option is to take the cable car ride to the top.  At the foot of the stairs you can find food stalls and souvenir vendors.
An internationally recognize center for botanical study and research can be found in Chiang Mai.  It is known as Queen Sirikit Botanical Garden.  This 2 kilometer garden goes beyond the Mae Sa elephant camp.  Beautiful flowers can be seen as well as carefully kept lawns.  As a visitor, you can take a number of nature trail walks on the more than one thousand hectare grounds.  There are several trails to take when going around this garden.  You can take the route that leads to the waterfalls, rock garden and the orchid's nursery.  Another route takes you to the arboretum while a 3rd one will take you to the Glasshouse Complex which houses a souvenir.  Still the 4th trail is for those who like climbing.
Discover the jungles, mountains and hill tribes when you go trekking around Chiang Mai.  If you want to visit Mae Tang you can expect jungle trek, visit to Akha village, white water rafting, swimming in the waterfalls, elephant ride and bamboo rafting.  Almost the same experience can be seen when you take the Samoeng area trek except for a visit to a different village.
Chiang Dao Caves
Chiang Dao Caves are made out of limestone.  You can choose from exploring two caves: Tham Seua Dao and Tham Phra Nawn.  Both of these caves contain many shrines as well as Buddha images.  Still there is no surplus of caves to visit.  There is the Tham Maa, Tham Naam and Tham Kaew.  You can hire the local guides and rent a gas lantern to explore these caves.  It would be better to get a guide than get lost in the unmarked holes inside these caves.  Do check out the water level by looking at the water marks on the walls.
Doi Inthanon Park
If you wish to bird watch the largest collection of bird species can be found at Doi Inthanon Park.  This park offers accommodations and camp sites.  You can swim at the Mae Klang waterfall.  It is not advisable to swim above or below the falls.  Visitors are warned about this.  This park boasts of its Brichinda Cave.  It has a gigantic entrance.  You can view the chamber that has a skylight opening to the surface.  One of the most beautiful trails that you can found in this park is Gew Mae Pan trail.  Red rhododendrons dot the trail.  Do visit Maesa elephant camp.  You can see elephants that know how to paint here.  In an aim to be recorded in the Guinness Book of World Records, this elephant camp sent its nomination for their elephant's painting.  This clearly shows that Chiang Mai has more to offer than their famous handicrafts.
JJSmith