Hat Yai Thailand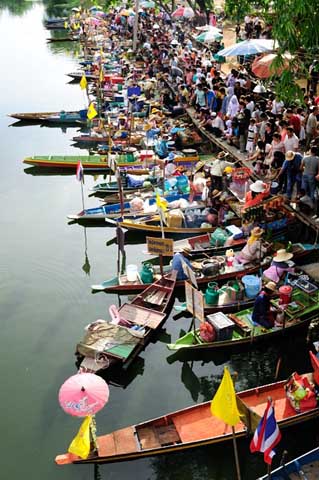 Hat Yai: The Liveliest Town in Thailand
Hat Yai is a shorten version of the word Mahat Yai which means Big Mahat in Thai language.  This refers to a tree that belongs to the jackfruit family.  It is the major economic center of Southern Thailand.  This place is also the transportation hub of Southern Thailand as well.  Hat Yai is a shopping haven for both locals and tourists alike.  This city has two of the largest weekend markets namely Asian Trade and Greenway.  This market sells second hand goods and souvenirs.  If you are searching for good bargains, better catch the market days.  You must also visit Klong Hae Floating Market which sells local food and is open from Friday to Sunday only from 3pm to 8pm.
If you are heading towards the Hat Yai Municipal Park, a new addition to tourist attractions is by going for a ride in the first ever Cable Car in Thailand which was just inaugurated last 2011.  Along the cable car route you can visit the Elephant Temple or the Brahman Shrine.  Near the Elephant Temple you can sit on an impressive three face elephant standing atop a pedestal.  The Brahman Shrine is famous for its four faced Buddha.  People go there to pray and ask for their wishes to be granted.  You can also drop by at the deep sky Hat Yai Observatory especially built for science and astronomy.
Experience the wonderful Hat Yai Ice Dome which houses the original ice carvings from Harbin, China.  This Ice Escapade is the product of two countries who want to establish a closer relationship which each other.  You've got to enjoy the lights, ice world animals and ice world flowers in this cold winter wonderland.  Standing near this place is one of the most colorful sites in this city where the famous annual Lantern Festival is held in November.  We are referring to the Loy Krathong Festival.  A center stage is a place to hold various performances for the evening.  This is also when various flower float lanterns are released in the water during the evening.
Another famous festival is Songkran which is what is commonly known as New Year for the Thais.  This is also a water festival wherein they can drench each other with water as people participate in its celebration.  This is celebrated from April 13 to 15 each year.  Want to see a 7 tier waterfalls, head on to Ton Nga Chang Waterfalls.  You can take a hike and have a picnic near the waterfalls.  Ton Nga Chang literally means Ivory Tusk Falls which closely resembles the color of the water as it cascades into the wild animal conservation zone in the 3rd tier.  You can also pack a swim suit to dip in the water later on.  No trip to Thailand will be complete without your famous Thai massage.  Hat Yai is one of the best places in this country that offers one of the most soothing massages that you can ever find.  With all of these activities, no wonder people say that Hat Yai is one of the liveliest cities in Thailand.
JJSmith