Kanchanaburi Thailand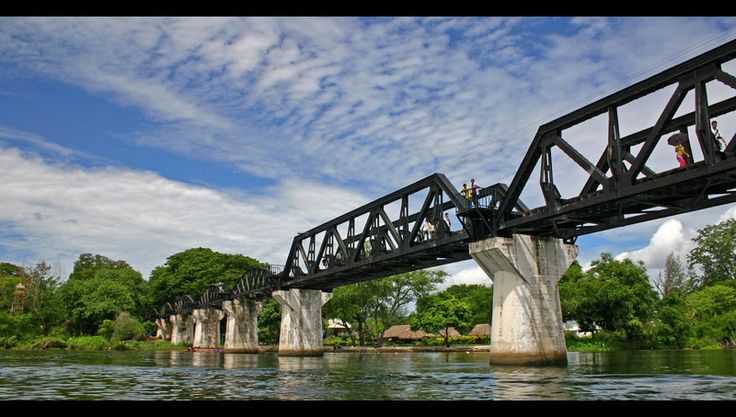 Magnificent Kanchanaburi
The movie "The Bridge on The River Kwai" is what made Kanchanaburi famous.  This bridge is known as the Death Railway because it was constructed by slave laborers and prisoners of war in extreme harsh conditions that most of these laborers died.  The railway was built to transport cargo to India and was originally planned to be a way to attack India as well.  This bridge is now the site of an annual festival to mark the Allied bombing of 1944.  The main highlight of the festival is a light and sound show at night.
Several of Thailand's largest waterfalls, caves and wildlife sanctuaries can be found in this area.  As a tourist you can have fun water rafting or kayaking on the tranquil rivers of this place.  You can also ride an elephant or trek on foot.  You can stay at the River Kwai Jungle Rafts which is unique because it is a floating lodge found on the banks of this river.  Visit the Cave Temple of The Floating Dragon which showcases its resident nuns walking as if they are floating like ethereal muses.  Take the long stairway leading up to the cave temple where you can crawl from cavern to cavern up to the hills' summit.
Want to see a temple build underneath eight caves?  Head towards Wat Thum Khao Poon.  Stalagmites and stalactites hang on the caves while you wander around when the monks are not meditating.  Enjoy the view of looking at the stalactites that formed in the shape of a crocodile or elephant.  Dress accordingly since you need to crawl when you visit these caves.
One of the phenomenal museums is Hellfire Pass.  An audio visual display and the surroundings can take you back to the time when prisoners of war are languishing in the Death Railway.  Do take a tour or rent a motorbike.  It will help you go around faster than just merely taking a walk.  After this tiresome tour you can relax and have your massage at Suan Nanachaat day spa.  This spa is situated in an elegant garden.  The massage here is reasonably priced.
For those fond of cooking, take the cooking classes to learn more about Thai cuisine.  These cooking classes start with a local wet market tour before going back to the kitchen for a cooking demonstration and hands-on practice.  The most famous cooking classes can be found at Apple Guesthouse or Testy's on Maenam Kwai since standards are followed here.  This is a nice way to learn how to cook Thai food especially for those who are budding chefs.
Take a Tiger Temple tour.  You can touch these animals while having your pictures taken with them.  You can even participate in feeding tiger cubs.  The monks who look over this temple will give you toys for the tiger cubs to play and jump at.  If you wish to bath the tiger after tying them down you can do so.  The same thing goes when you want to swim and bath with elephants in the jungle.  Kanchanaburi is famous for its magnificent landscapes as seen when you take the train ride from Bangkok.  No wonder you can honestly say that Kanchanaburi is truly magnificent.