Koh Phangan Thailand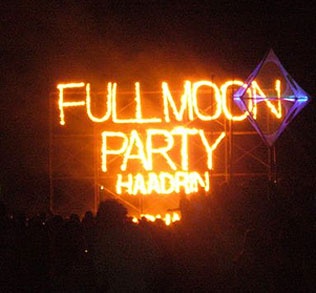 Full Moon Parties at Koh Phangan
It is not just full moon parties that makes Koh Phangan a nice place to visit when in Thailand.  It is true that some people love to party till the break of dawn and gyrate to an all night of dancing but there are other places to see and things to do when in Koh Phangan.  It is tourists who found that the most beautiful view of the moon is at this exact spot.  It is the untouched beauty of this island that lends it the charm that it has in plenty even if this island is under developed when compared to Samui Island.
The other reasons why tourists like going to this island is its pristine virginal beaches.  You can choose from the pricey luxurious resort or the cheaper places to stay when in Koh Phangan.  Some of these resorts even offer a spa package which includes fasting, yoga, spa treatment packages and a reserved spot at the vegetarian restaurant.  Since there are no cinemas on this island you can watch a live Muay Thai match.  This can cause your heart to skip a beat than watching a horror movie.
The love for spicy Thai food is contagious.  You can have a pick of fresh seafood and vegetarian dishes in fast foods or eateries spread throughout the island.  Thongsala's Daily Food Market serves genuine Thai food and a great way to taste chicken and rice.  If you would love fine dining, head for one of the beach restaurants that dot the island.  These restaurants also serve Italian, Dutch and English menus.  The best tasting Fish and Chips has got to be from Chef Lek's Fisherman's restaurant.  This chef is a native of this island and has inherited this family business from his forefathers.
During the monsoon season it is a good time to visit the Phaeng Waterfalls.  This waterfall has two levels and tracks to see the mountain closely.  This waterfall is part of Koh Pangan National Park.  This island boasts of 20 temples for those who want a sort of spiritual pilgrimage.  Kuan Yin Chinese temple is composed of seven different buildings all in all.  An impressive dragon drum, pagodas, wind chimes and a large golden Buddha can be seen all throughout this temple.  Health enthusiasts are attracted by the inexpensive herbal sauna and massage center in Wat Pho.  This temple has been considered as the best massage center on this island.
When it comes to shopping, Koh Pangan is way cheaper than Samui.  You will find craft shops, jewelry stores, and specialty shops as well as fireworks stores.  The truth is, this place does not offer high class shopping which can be done in either Bangkok or Phuket.  It is more within the level of souvenir shops and some basic shopping essentials.  You can have a better chance of good shopping at Thong Sala since it is considered as the shopping hub of Koh Phangan.  Barter and bargain to your heart's delight since this is a normal part of the culture here.  Wild parties may be what most people like about Koh Phangan but still, there are other things to do than just dance on this island.