Phi Phi Thailand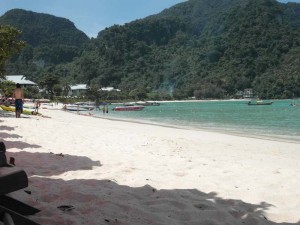 Koh Phi Phi: The Diver's Paradise
Thailand has its own diver's paradise because of Koh Phi Phi.  If you want to try diving, going there affords you the best locations to have your cheap diving lessons in the AndamanSea.  Some sites can even allow you to catch a glimpse of a Whale Shark, and other deep sea creatures.  Two of the famous diving spots in Koh Phi Phi can be found in Hin Daeng and Hin Muang.  Hin Daeng was given recognition has an excellent diving spot to view fantastic marine life while Hin Muang is famous for its violet coral.
Wreck diving through the King Cruiser wreckage is a nice place to explore the deep sea further.  For well experienced divers you can visit small caverns or some caves.  Those who like to dabble in underwater photography will have a field day enjoying the various species of seahorses and pipefish.  Koh Phi Phi islands is pleasant to dive in during November through the middle of January when the water is calm and the skies are clear. From May till late September the water is slightly filled with waves which is better for those who love snorkeling but the air at this time is humid that can produce bucket loads of sweat.
One of the most expensive yet fulfilling activities is deep sea fishing.  You can have the chance to catch tuna, barracuda and king mackerel fishes.  Some prefer a twist to this deep sea fishing since they can participate in night fishing instead.  Snorkeling is another fun adventure on this island.  It would be lovely to explore those hidden places like the Bamboo or MosquitoIslands.  Not all sharks are harmful.  Some of them like the black tip sharks are harmless.  They will not eat you for lunch!  One of the most popular trips is feeding these same sharks.  To protect yourself from uneventful circumstances and accidents it would be wise to get insured while diving.  Take a twenty minute walk to the Viewpoint and be rewarded for your efforts when you look at the great panoramic view from up there.  The best time to be at the Viewpoint is during sunrise or sunset.  Carry your camera with you to capture this experience.
It is cheaper to group together and hire a long tail boat to take you anywhere you like than hire a special charter boat.  You can explore the island on your own than join a guided tour.  Bargaining with the boat's owner for the prices is allowed.  It would be lovely to get the good end of the bargain and win this negotiation.  Get a taste of the nightlife through fire shows and Thai boxing matches.  These events happen near the beach bars.  Koh Phi Phi is famous for massive beach parties.  Live music comes your way but it can be a bit pricey.  You must look for restaurants that serve good quality food without the higher price tag like the TonSaiVillage.  This is actually the tourist arrival area when in the island.  Koh Phi Phi is not just a diver's paradise but a nice place to spend your vacation when in Thailand.