Samui Thailand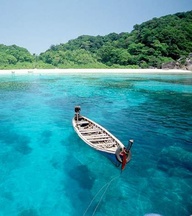 Samui Thailand: Asia's Chameleon
Samui or Koh Samui is an island off the East coast of Thailand.  Samui is considered to be a chameleon for those who are attracted by its scenic beauty.  You will be surprised just how different are the visitors that visit this Thailand island.  From regular backpackers to flashy yet fashionable people carrying their Louis Vuitton bags you will see them all here.  In the past Samui was not an expensive place to be in although there are still those who offer cheaper accommodations.  The best time to visit Samui is during February till June when the weather is hot and dry.  If you like fine weather and fewer tourists you must go there in either September or October.
Upon arriving at the Samui airport you will notice the presence of the new Samui Park Avenue shopping arcade which features a motley collection of quality retail shops and restaurants.  If you wish to shop elsewhere you can still go to the three biggest markets in Samui: Nathon, Chaweng and Lamai.  Thai silks and handicrafts can be found here.  These three are the good places to scour for souvenirs.  If you wish to stay in a luxurious place, choose Koh Samui Villa.  It has a strategic location because it is located near the Namuang waterfalls, Magic Buddha Garden and is near the butterfly, crocodile and snake farms.
Besides its temples, Samui is also famous for its mummified monk.  The remarkable thing about the monk's body is that even after 30 years it is still well preserved.  You can purchase blessed Thai amulets while you are visiting the temple where the mummy monk sits.  Continue having the time of your life when you visit the Ang Thong Marine National Park.  If you are not contented with the day tour, you can always rent a bungalow or tent to stay overnight on this island.
In your Koh Samui travel you can also plan on engaging in various water sports.  You can dive, snorkel or fish in the waters of Samui.  If you plan on learning how to scuba dive, there are plenty of schools that offer a short lesson around Samui.  Tour packages are also offered for this three water sports.  You can also seek out extreme adventure sports like Canopy Adventures that will take you on cable rides or the rainforest tour.
If you love eating sea foods, this is one of those staple foods on the menu when in Samui.  You can sample the superb cuisine and abundant European, International and local dishes for only 200 Baht ($7) per person.  It is a very small price to pay for having a feast of whatever type of cuisine you wish to taste.  Taste the shellfish, lobsters, fish, crabs and prawns cooked with spices.  Remember, Thailand is famous for serving spicy dishes that can burn your tongue.  You need to buy some milk or something sweet to counteract the spiciness of the foods.  You can say that Samui is a foodie's ideal place to pig out.  You simply cannot stop discovering what Samui has to offer, a feast for the senses.
JJSmith