Sukhothai Thailand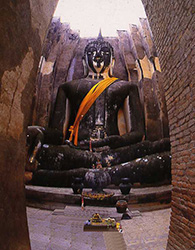 Never Ending Happiness at Sukhothai
It was in the 13th century that Sukhothai or Dawn of Happiness came into existence. This place was famous for being the first to enjoy its autonomy as a Thai Kingdom. Sukhothai has been restored to its old glory and is considered as a World Heritage Historical Park for UNESCO. This place is famous for its year round festivals. Most of these festivals fall on April and November although in January and February there are two festivals that are celebrated as well. January is when the festival honors the once Great King of Sukhothai.
In the month of April, one of the most celebrated festivals, is the Si Satchanalai Elephant Back Ordination. This is a traditional ceremony that starts with a procession. More than 20 to 30 elephants are decorated colorfully to participate in the said procession. The main festival celebrated during November will still be Loi Krathong. This festival is commonly celebrated by Thai citizens who live near the river or any waterways. See the old ruins of Sukhothai during the early part of the morning when the air is a little bit cooler. Do take part in Bicycle Tours while visiting these ancient ruins. The bike rentals are just 10 to 50 baht per day.
Another good place to visit during the early part of the morning is definitely the fresh market. You can taste the authentic Thai food sold in this market. Prepare yourself for the burning sensation cause by hot chili's which are use for almost all of the dishes. Try the local noodles which are mixed with sweet and sour sauce and different kinds of meat. For those with a sweet tooth, do try the street carts who sell colorful Thai sweets like coconut custard.
If you are longing for hard liquor, better go to some of the places like Chopper Bar which sells cheap mixed drinks in a Wild West theme salon bar. Do not expect to see a dance bar because the nightlife in this place is a bit tamer compared to other places in Thailand. Famous for its beautiful mountains, cool streams, waterfalls and fruit orchards you must visit Khao Luang National Park. This park boasts of at least 200 species of birds and 300 varieties of orchid. The best time to visit this park is from January to April when the air is cooler.
If you are searching for antique Thai silks, visit Golden Silk Museum. You will see more than a hundred years of craftsmanship and silks that are actually made out of golden threads. Go on and shop for famous local products like ornaments made out of gold or silver. The goldsmith's still copy ancient designs found from the ruins of the ancient city of Sukhothai. One of the best ways to explore this place is by hiring a Tuk Tuk. Your Tuk Tuk driver will give you time to explore the place and take pictures to take home with you without causing a strain to your legs. You can also ride the "songthaew" which is a passenger vehicle that looks like a pickup truck. It is indeed in the little things that we find happiness and the same thing can be said about Sukhothai as well.