Udon Thani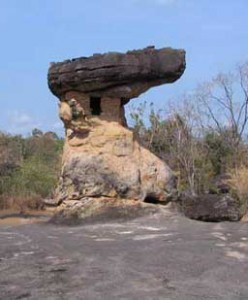 The Paradoxical Udon Thani
It was Prince Prajak Silapakom who founded Udon Thani in 1890.  This is now Thailand's 4th largest city.  During the Vietnam War, Udon was home to a US Air Force airbase which has made this place increase its wealth and importance.  Udon Thani is famous for agriculture, shopping and several spots that tourists would love visiting.  Good bargains for home woven silk and cotton garments can be found in Ban Nakha.
If you love history, you would find Ban Chiang a nice place to visit.  Ban Chiang is famous for its Bronze Age village.  As with other old villages, Ban Chiang was build on top of a cemetery and olden villages.  It is to Ban Chiang's credit that the ceramic tradition has flourish up to this present age.  You will also find ancient temples and pyramids.  Ban Chiang has been given the distinction as UNESCO World Heritage Site because of the prehistoric settlement that was discovered there.  It will take about three hours to tour the museum that houses the curate objects.  If you are an archeological student this would be a food for your eyes and senses.  There was a scandal attached to several of the museum artifacts that are said to be smuggled and sold illegally.
Nong Prajack Park is a large recreational spot within the city to exercise or simply chill out.  You will find the large lake with several small islands surrounding it.  You can feed the fish in the water if you wish for something relaxing to do.  You can also jog around the lake.  If you don't wish to exercise in the day time this place offers a nightly aerobics work out to the beat of Thai pop music.  If you are still up for more activities you can hike or camp at Phu Foilom Eco Park.  Rare species of fauna and flora can be seen in this park.  You can enjoy looking at the waterfall and spending some time with the locals in the picnic area for barbecue.
Thailand has nominated some parks for inscription to the World Heritage List, which includes Phu Phra Bat Historical Park.  This million year old park sits on top of a mesa.  Prehistoric existence can be seen with the presence of sandstone formation carved by glaciers millions of years ago.  A three hour visit with a guided tour is enough to see everything on this forested mountain.  Otherwise you can miss out on some things that only a knowledgeable guide can show you.
If you love orchids and taking pictures of this wild flower you must visit Udon Sunshine Orchid Farm.  This place is famous for producing orchid derived perfumes and plants that "dance to music".  You can purchase the three kinds of patented orchid perfume from 300 to 1000 baht per bottle.  As for the infamous dancing plant, it is the telegraph plant that responds to the sound of music.  It's young leaves sway in rhythm to the music.  This plant has medicinal benefits as well.  Udon Thani has its fair share of Thai dishes like the fish stomach salad and wild boar in red curry sauce.  There is more to see and experience at Udon Thani to learn why this place is compared to an enigma.