Hua Hin Thailand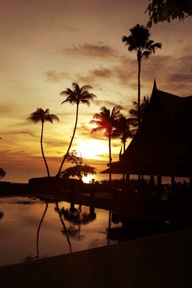 Hua Hin: Taste of Royalty
Among the tourists' destinations in Thailand, Hua Hin offers a modern holiday atmosphere to locals as well as foreigners who wish to have a taste of the royal life.  This island is known for its world class golf facilities and has been one of the favorite destinations of those who love the sport.  Some beaches have just been recently discovered but this is not the case with Hua Hin.  They have been famous as a resort for more than 70 years now.  Even if this place has existed for quite a long time, still people are flocking like flies to enjoy its royal resorts.
It was King Rama VII who discovered the Hua Hin Resort as a better alternative instead of the sultry metropolis climate of Bangkok.  This former fishing village has been transformed as a place for Siam's nobility and those who are rich.  Rich and famous persons have built their own beachfront summer homes in Hua Hin.  Today, Hua Hin is not just for the moneyed people but also for those who want to enjoy taking part in leisure activities with their family and friends.  Hua Hin after dark is a haven for bar habitues and those who love the night life and its various forms of entertainment.
This island has a typical tropical climate.  The weather is humid and there is not much rain.  If you like the cool season better visit Hua Hin from November till February.  These are the ideal months to be in Hua Hin.  One of its famous beaches is said to be Hat Hua Hin Beach which helpfully overlooks the legendary Buddhist Temple.  It is a place where you can relax and get out from the stressful rat race that you are in.
Every year Thailand's International Kite Festival is held in this place.  You can see various shapes and sizes of kites flying in the air.  If you are a nature lover, visit Namtok Pa La-u, this island's two tier waterfalls.  You can also view the different species of birds and butterflies at the nearby Kaeng Krachan National Park.
If you want to taste the best sea food either in the Oceanside or near the town, Hua Hin has plenty of these types of places to dine in.  Depending on your budget, you can choose the cheapest or the most exclusive restaurants in the area.  If you wish to taste the freshest pineapple on this island, then head towards Otop market.  Typical Thai sweets, snacks as well as preserved fruits are sold in this place.
One of the things that make Hua Hin famous is its annual Jazz festival.  It has now transformed into the biggest and most important Jazz festival in Thailand.  Despite its small size, Hua Hin is indeed packed with so many things to discover.  This is the reason why visitors keep coming back time and time again.  In this case, big things do come in small packages.  Choose from the excellent tourist destinations, splendid national parks and other places where you can learn about Thailand culture and its people.
JJSmith