Ubon Ratchathani Thailand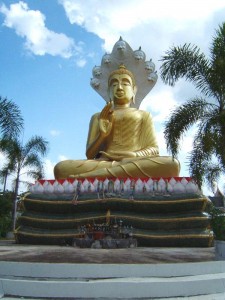 The Adventures That Await You in Ubon Ratchathani
Ubon Ratchathani National Museum occupies the old city hall.  This very informative museum has plenty of interesting items to show.  You can see there, the 2500 year old Dong Son bronze drum.  The museum's most treasured possession is the 9th century Ardhanarisvara which is a composite statue of Shiva and his consort Uma.  It is in Pha Taem National Park, overlooking the Mekong River and Laos, that you will find sandstone cliffs.  Pha Taem is where you can see the collection of prehistoric paintings which are at least 3,000 years old.  You will see several waterfalls near this park that includes Soi Sawan, Na Muang, Thung Na and Saeng Chan.
Kaeng Tana National Park has lots of underwater caves that have fishes living in them.  It was declared by the King as a national park.  The wildlife here is composed of wild pig, deer, civet, macaque, gibbon and different species of birds.  Huai Luang waterfall is said to be a perfect place to swim according to those who have swam in its waters.  A hidden cave can be seen behind the falling water. Some say that this place is protected by a curse since inside the cave you'll find treasures and mysteries waiting to be solved.  No one dares to venture further, locals and tourists alike.  The 2 Color Rivers is another famous Thai wonder.  You will see the brown MekongRiver joining the blue MunRiver.  You can hire a boat if you want to see this wonder.
You can find nature's artistry through Sam Pan Bok holes which is something that you usually see in the face of the moon or in a science fiction movie.  There are other options going there besides taking the car.  You can ride the long tailed boats or hire a paddle boat during the day.  Avoid going there on weekends since the place is too crowded.  In some months of the year Sam Pan Bok is underwater so better take the advice to go there from January to June.
Sedhapura was named after an ancient Khmer Kingdom but is now a good place to go when you need a little pampering.  You can visit one of the Pool Villas situated near the Mekong River while you have your foot or whole body massaged.  One of the famous festivals is the Candle Festival.  Most of the activities center on Tung Sri Muang Park.  This is where you can find the giant wax sculpture pillar.  This beautiful candle will only be on display during the festival and is kept most of the time in a local temple until the next festival.
Find the best restaurants by the Mun River where some resorts are located.  These are floating restaurants that served Thai food.  If you love to eat you will experience the unique taste of Isarn.  The flavors are tangy, sour, bitter, sweet and spicy.  You can choose from the foods sold by simple street vendors or dine in like royalty in one of the restaurants in Ubon Ratchathani.  Most of the markets here sell homemade food.  You can also order from other Asian cuisines as well.  Ubon Ratchathani is not short on adventures if you want one.